I tore a muscle in my arm a few months ago and while its healing I have to rest it.
I found someone to help me post this.
Once I am better, I will post more often.
Voice recognition programs do not seem to work with Cherokee language ... yet...
PURPLE-- different names for PURPLE
why different words?
has more to do with than just the HUE it also relates to the kind
ᏕᎷᎨᎢ de-lu-ge-i
purple colored flowers such as the thistle [ ᏥᏥ ]blossom
or

ᎤᏪᏘᎨᎢ u-we-ti-ge-i
purple colored plants; describes edible vegetables like purple onions and purple potatoes BUT also describes inedible mushrooms
purple topped mushrooms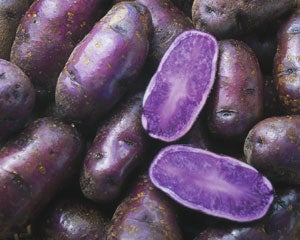 purple potatoes
ᏕᎷᎨᎢ purple colored flowers are transitory items;

ᎤᏪᏘᎨᎢ purple colored plants means the item itself is saturated with that color- the stems, stalks, tubers and even the fruit.
Purple Cabbage
SENTENCES TO STUDY
"The Cherokee did NOT eat the purple mushroom"
ᎠᏂᏣᎳᎩ ᎨᏍᏗᏱ ᏓᏂᏯᎩᏍᎨ ᎤᏪᏘᎨᎢ ᏓᏬᎵ
"Plants purple they are blooming"
========


"Scottish Thistle has a purple blossom"
ᎠᏍᎦᏥ ᏥᏥ ᎤᏰᎬᎢ ᏕᎷᎨᎢ ᎤᏥᎸᎰᎢ
=======


"s/he used a purple onion in her/his cooking"
ᎤᏪᏘᎨᎢ ᏒᎩ ᎬᏗ ᏍᎬᎩ ᎠᏓᏍᏓᏴᎲᏍᎬᎢ
===




NOTE: ᏕᎷᎨᎢ is also used to describe bruises because they are transitory; ᎤᏪᏘᎨᎢ is used for age spots because they become permanent; this also has overtones/nuances of age, maturity and fruition.